Cracking the Academic Department Website Challenge
Cracking the Academic Department Website Challenge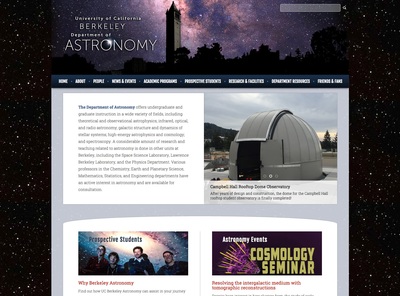 University academic departments have some unique challenges when it comes to their websites. They typically have few, if any, marketing resources, and all too often their websites are built by volunteers from within the department. We applaud the volunteers for their energy and enthusiasm, but unfortunately they generally lack the skills to create an outstanding website.
In addition to promoting the department to prospective students, the website must serve current students, faculty, and staff. This means having lots of information, keeping it updated, and making it available to mobile phones as well as to computers. These are tough hurdles when building the site without a professional design and development team.
Why So Many Sites Fall Short
As a result, many department websites fall far short of their potential. Yet these websites are critically important. For prospective graduate students, which are the lifeblood for many departments, the department's website is typically the first point of contact. It provides an exceptional opportunity for the department to convey its unique faculty, courses, and resources.
Furthermore, many schools place the departments in straight-jackets, requiring that they use a campus-wide template, or even be part of a campus-wide content management system. This leaves the departments with a sameness that makes it very hard for them to stand out, and it reduces the opportunities to highlight their unique strengths.
Empowering Departments to Stand Out
Fortunately, some schools, such as the University of California at Berkeley, have given departments the freedom to create their own websites. To make the most of this opportunity, however, the departments need help—not only with graphic design, but also with information architecture, website development, and ongoing training and support.
We have had the honor of working with half a dozen different UC Berkeley departments. The most recent one to launch a new site is the Department of Astronomy. For this site, we had the luxury of working in an area that is rich with visually stunning images, and with a department that has a great deal of information to present.
Taking the Burden Off the IT Department
Departments often think the university's IT support team should be able to provide them with websites services. In a few cases, they can—but far more commonly, developing and supporting effective websites is simply not a good match for the IT department's charter, or for the skills of its staff.
A fully hosted and supported solution, with end-to-end services from concept through hosting and long-term support, takes the burden entirely off of the IT department, while providing the departments with all the resources they need to create and sustain an outstanding website.
Economical Solutions for Smaller Departments and Institutes
Some smaller departments and institutions don't have the budget for a full-custom website, so we've developed lower-cost options for academic websites. By leveraging templates that we've developed specifically for academic departments, we're able to offer an exception value.
If you are part of a college or university department, or know someone who is, and want to help the department make a dramatic improvement in their web presence, we'd love to hear from you. Just drop us a line and we'll be in touch shortly.